Back
The new ELAN Intercom provides doorbell, paging and true full duplex point-to-point intercom functions that integrate seamlessly with ELAN interfaces and controlled multi-room media systems. Unlike hardware-based intercom systems, the ELAN Intercom supports unlimited zones. ELAN Intercom can share speakers with your multi-room audio system or 3rd party door stations, and it works with any ELAN dedicated in-wall touch panels or mobile device running the ELAN Mobile app. ELAN lets you link multiple ELAN systems, even if they are not on the same network, and lets you make point-to-point intercom calls to any interface across any linked system. For intercom zones that share the same network, just press the Page button, and begin speaking to all intercom zones on the network. When another user answers the Page, it becomes a point-to-point call. Connecting with your family across the home--or around the world--is easy.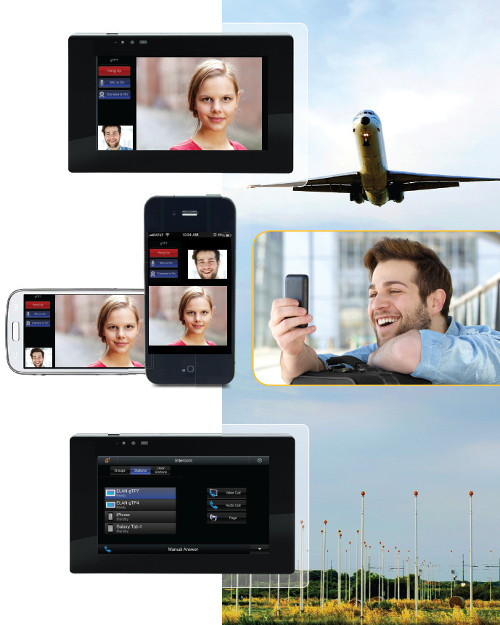 When you are mobile, the ELAN mobile app keeps you connected, enabling you to answer a call from any intercom zone, or answer the front door from anywhere in the world. The ELAN mobile app sends push notifications to make sure you get the message. And when you want to unplug, just enable the a Do-Not-Disturb function. In emergencies, a DND Admin Override code can be used to temporarily suspend DND mode. ELAN's 7" touch panel interface (gTP7) features an integrated camera, mic and speakers that can be used for intercom communications. This unit can be connected via WiFi, so it can be added almost anywhere in the home. In rooms that serve as a nursery or family room, an ELAN touch panel with the intercom feature doubles as a room monitor, allowing users to check in on loved ones without disturbing them.
For installations with the g1 system controller, the on-screen display (OSD) interface doubles as a one-way audio video receiver for Pages and Doorbell chimes. When someone is at the door, ELAN can wake up the TV and play chimes on the TV speakers and show who is at the door on your TV. Don't worry--like everything in ELAN, it's easy to turn this feature off.
Because ELAN Intercom is built on the ELAN Control Platform, your integrator can customize triggers from devices like doorbell interfaces, door locks, ELAN "Sense" modules and more to create custom "event maps" that can send whole-house pages, mobile alerts and more, all completely personalized to your needs.
The ELAN intercom feature is compatible with both audio and video 3rd party door stations. IP cameras can be assigned to audio-only intercom zones or door stations to add video monitoring. ELAN g! users can monitor audio or video from door stations from any g! interface or mobile device at any time.
Back