Simple and easy audio, climate and lighting control.
Meet the new Auriel.
Auriel™ is the simplest way to integrate the smart home control you use most – lighting and climate – into your home audio and entertainment system. Plus, the built-in music streaming makes it easier than ever to fill you home with music and entertainment.
Niles pioneered the "one touch to music" philosophy and is now expanding that same simple approach to climate and lighting control. Your local Niles dealer can show you just how easy it is to get started with Auriel.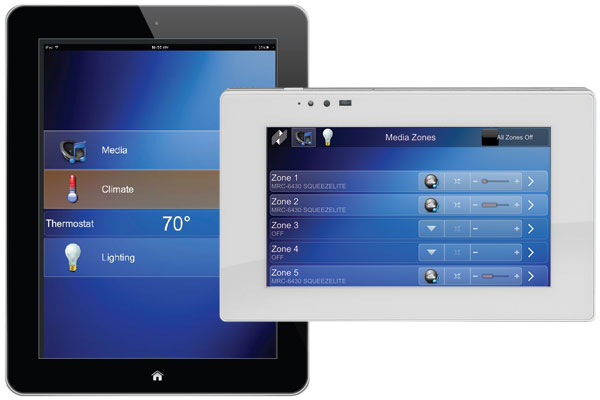 Get Happy.
Streaming is now built into Auriel, and your streaming music favorites - Pandora, TuneIn, Tidal and others - are included. Auriel's six audio zones (expandable to 12) let you determine what audio plays in which part of the home.
Mom and dad can enjoy cool jazz in the kitchen while the kids crank up some hip hop in the family room. Or visa-versa.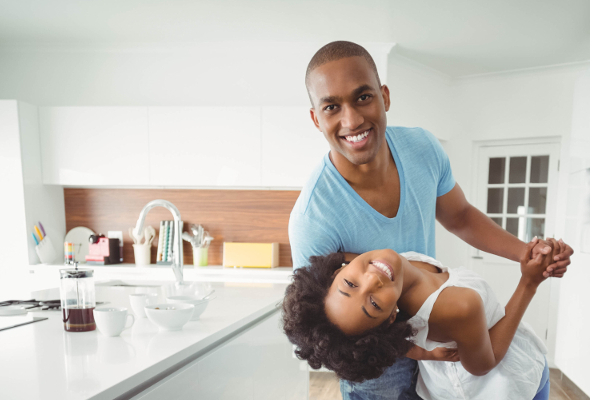 Shine a Light.
Ensure the mood is always right for movie night. Schedule the lights greet you in the morning. Make sure your home is well lit when you return home in the evening. Auriel makes this a snap with integrated control of your home's lighting system, such as Lutron or PCS Pulseworks.
Control up to 24 lighting loads from the Auriel interface. Scene control is supported for select systems.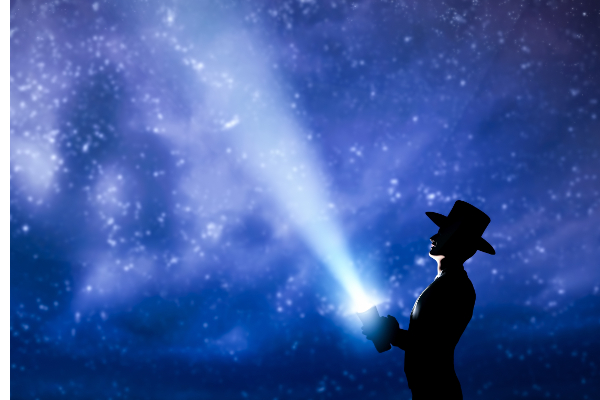 Time to Chill.
Or time to get toasty. Auriel lets you keep the temperature just right throughout your home. Set unique schedules and remotely control up to three wireless thermostats all from your Auriel interface. Wake up to just the right temperature, and economize while you are away during the day.
Heading home unexpectedly early this evening? Use the Auriel mobile app and the house will be just the right temperature when you arrive.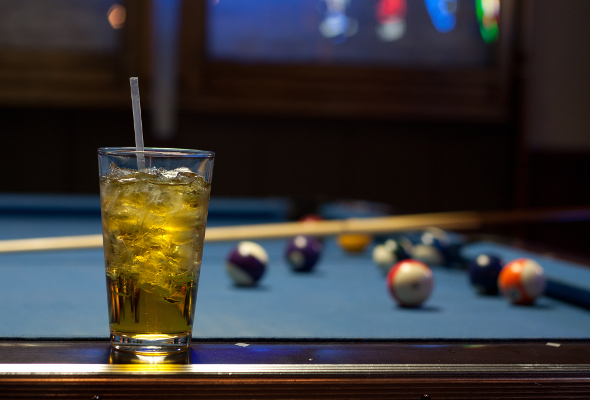 Control and Convenience.
Auriel makes controlling your system easier than ever as well. Whether you opt for the elegant dedicate remote or in-wall touch panels, or use your favorite mobile device. Auriel's interface is consistent across all devices, delivering true "one touch to control" simplicity.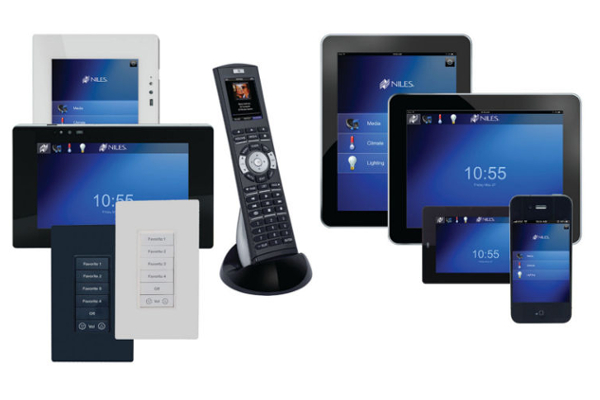 Power to Spare.
At the heart of the Auriel system is the Niles MRC-6430 multi-room audio and home controller. The MRC-6430 is a Seven-Source, Six-Zone Controller independently distributing up to seven audio sources (including the internal stream) to up to six zones. Its source control provides for two-way metadata, IP and IR control of a variety of popular devices.
For home theater, Auriel lets you manage audio and video components using a handheld remote or your mobile devices. And of course, the MRC-6430 controller enables lighting and climate for a truly seamless performance.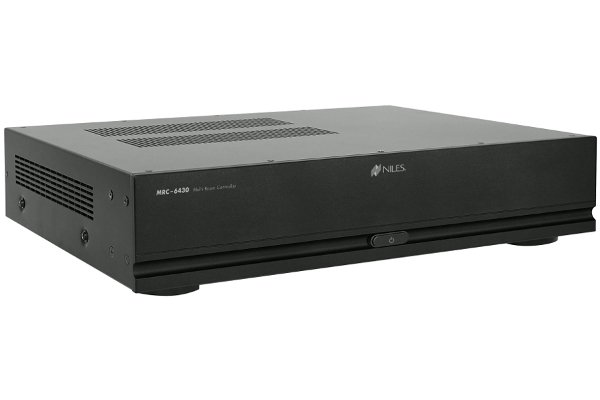 The Auriel ecosystem:
Simple, elegant audio, climate and lighting control.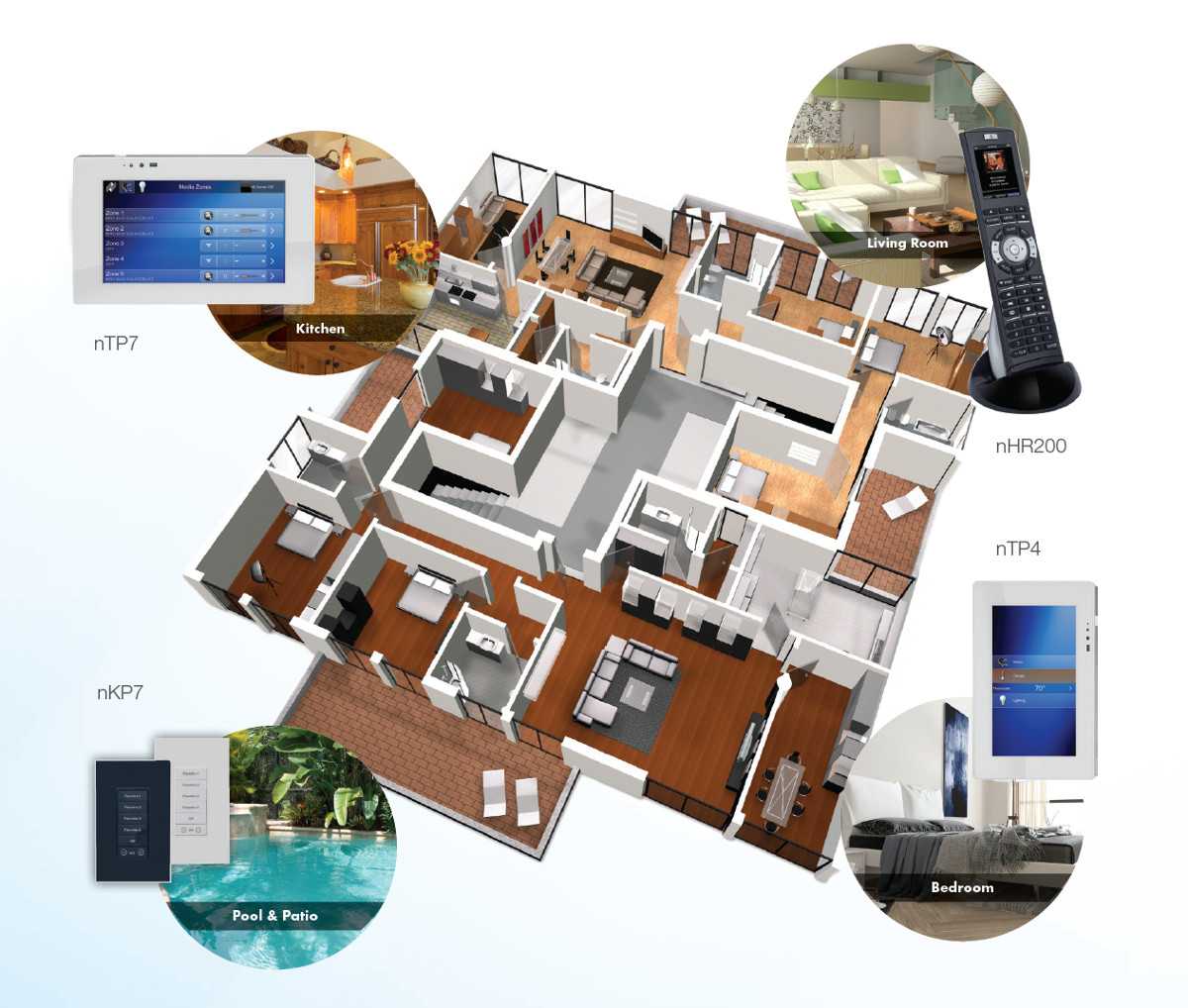 Auriel Key Features
Auriel makes home entertainment and control easy
Auriel makes home entertainment and control easier than ever before
Lighting control of up to 24 devices with scene and individual load control

Lutron Caseta and RadioRA 2, PCS Pulseworks PIM-IP and PGW, Clipsal, Rako and Z-Wave (via the VeraEdge Gateway)

Climate control includes scheduling and remote access to up to three wireless thermostats

AprilAire, CoolMaster IP, Lutron RadioRA 2, plus Z-Wave thermostats (via the VeraEdge Gateway)

Multi-room audio control

Seven Sources, including one internal streaming source

Pandora, TuneIn, Tidal and more

Six-Zones, add a chassis and expand to 12
4 stereo amplified zones (8 with two chassis)
Two-way metadata, IP and IR control of a variety of popular devices
Home theater control via managed audio and video components

System configuration via tablet or laptop with the Auriel Wizard
Updated remote access for integrators
The brains of the Auriel ecosystem
Dimensions: 17 1/4"W x 4 15/16"H x 12 7/8"D with feet
(437 x 100 x 328 mm)
Rackmount dimensions: 17 1/4"W x 3 1/2"H (2U) x 12 7/8"D without feet
(437 x 88 x 328 mm)
Weight: 18 lbs. (8.6 kg)
Power Supply: 100-120 / 220-240 V~, 50 / 60 Hz
Fuse Rating: T5 AL, 250 V~
Power Consumption 200 W
Amplifier Power Output: 30 watts/ch @ 8Ω / 45 watts/ch & 4Ω
THD: < 0.10%, 1 watt output into 88Ω
Signal to Noise Ratio: >100db, 20Hz-20kHz unweighted
Audio Source Inputs: 6 – analog, RCA connectors
Audio Zone Outputs: 6 – 4 Amp + Preamp, 2 Preamp Only
Speaker Connections: (4) detachable, (4) pole terminals
IR Outputs: 6 routable
Ethernet: 1 RJ-45 10/100 BaseT
USB: 1 Type-A
Warranty: Two years parts & labor