Back
We are pleased to announce that a new build of the g! software is now available on the ELAN Dealer Resources Page.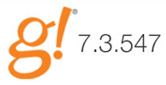 ELAN g!7.3.547 is designed specifically for gSC series controllers and the ELAN g1. The gSC2, gSC10 and g1 controllers come equipped with g!7.0 software. For optimal performance, please update your controllers with the newest build.
Updates in g!7.3.547 include:
ELAN HC to SC Configuration Migration Feature
VeraEdge (MiOS) Z-Wave Gateway Support
Leviton INDS1-00S SIP Door Station Support
Logenex Teleport Model TIP203-XVC SIP Door Station Support
Multiple Performance Improvements (See Release Notes)
Remember to always back up your system prior to updating your software. ELAN strongly recommends all updates be performed on-site with a hard wired connection to the system.
Get the g!7.3.547 update now on the ELAN Dealer Resources Page.
Back