Back
Thursday, September 8, 2016
Niles Auriel Expands from Multi-Room Audio to Home Control
PETALUMA, CALIFORNIA, September 8, 2016 – Furthering its commitment to provide custom installers with a wide variety of versatile products for every project, Core Brands today announced the immediate release of Auriel 2.0 – a major platform update that adds streaming audio, climate and lighting control, plus remote access features – to the award-winning multi-room audio control platform.
"Auriel 2.0 is a huge leap forward from the original multi-room audio platform that we introduced in 2014," explained Core Brands Software Product Manager, Tom McKeon. "It's built on the ELAN Control Platform, so it's a natural progression for Auriel to expand into smart home control. And, conveniently, the new software update enables any existing Auriel system to easily upgrade to the additional control features, so everyone wins."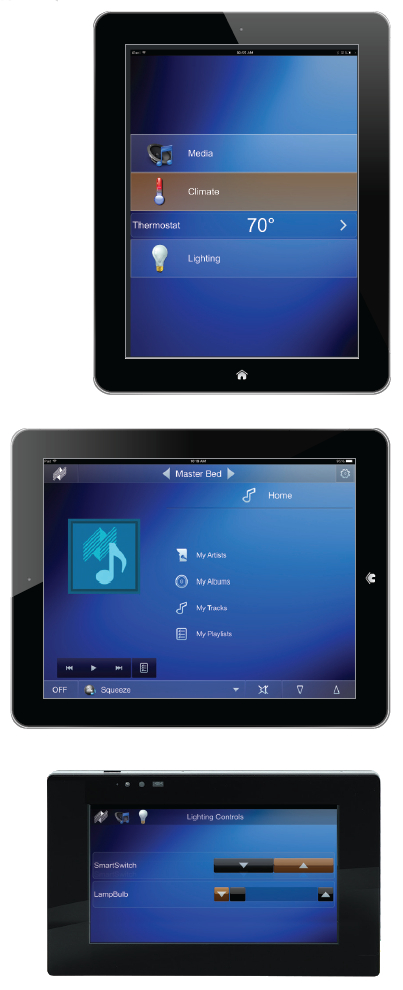 Lighting control devices and wireless thermostats now connect to the Auriel Controller, making the Niles Auriel MRC-6430 a complete, powerful, and convenient home automation controller. Creating a high-value foundation for any smart home project, Auriel 2.0 delivers simple access to lighting scenes and climate scheduling with a few simple clicks on a Niles handheld remote (nHR200), wall-mounted touch panel (nTP4, nTP7), or the Auriel app for Android and iOS mobile devices.
Auriel 2.0 updates the already integrator-friendly Auriel Wizard, which cuts configuration time to just minutes instead of hours. With a tablet or PC, the installer is whisked through simple decisions that quickly configure the system for lighting scenes and thermostat programming, plus sources, zone preferences, home theater control and user interface customization.
Providing more options for integrators and their clients, Auriel 2.0 now has Pandora, Spotify, TuneIn and other popular Internet radio services built into the MRC-6430 chassis. One chassis delivers audio to six zones through seven distinct input sources. For larger homes, two chassis can be linked together to create a 12-zone system.
"We're continuing to refine the Auriel home entertainment experience, expanding from the 'one touch to music' philosophy that made it an industry favorite," McKeon added. "With the ELAN engine under the hood, Auriel delivers an easy-to-install, entertainment-centric solution that is ideal for entry-level control and multi-unit installations."
See the new Auriel 2.0 in action at CEDIA 2016 in Core Brands Booth #4100.
About Niles
Niles®, from Core Brands, is synonymous with premier whole home audio solutions. For nearly four decades, Niles has delivered innovative products that enable easy access to advanced home entertainment –both indoors and outside.
About Core Brands
Core Brands combines the product and marketing strengths of iconic and award-winning control, audio, power management, connectivity and video distribution brands including ELAN®, SpeakerCraft®, Gefen®, Niles®, Panamax®, Proficient®, Furman®, Sunfire® and Xantech® to deliver a portfolio of connected home and commercial solutions to its channel partners and end users.
Back