Speaker Selector with Volume Controls for Six Pairs of Speakers
Speaker Selector with Volume Controls for Six Pairs of Speakers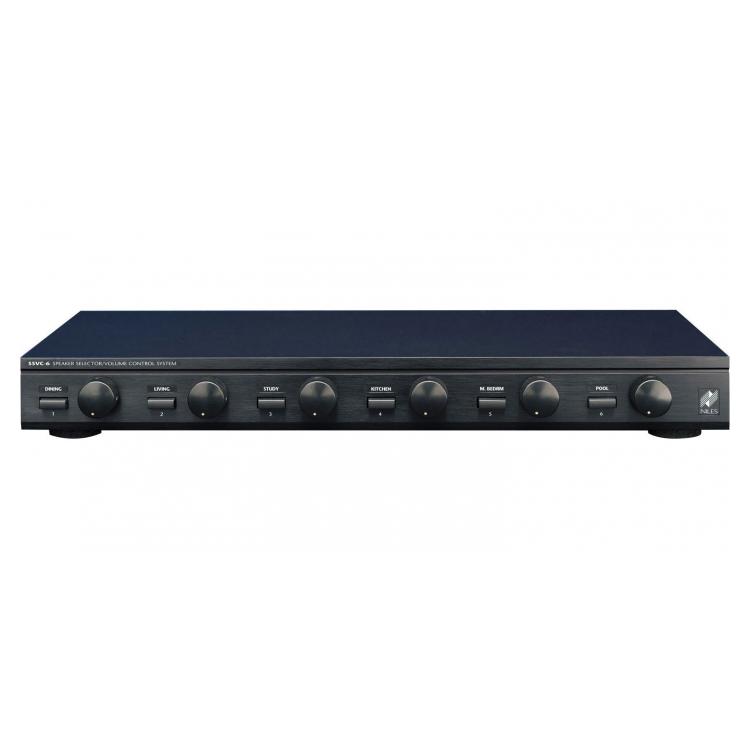 Niles Audio SSVC-6 | FG01044
Six-Pair Speaker Selector with Volume Controls.
Packaged for retail display.
Niles Audio SSVC-6 | FG01044
Features at a Glance
Power handling: 100 watts per channel RMS; 200 watts peak
Selectable impedance magnification for 1, 2, 3/4, 5/6 pairs of speakers
Individual room on/off selector switches
12-step controls; 54dB maximum attenuation
Separate left and right ground paths for compatibility with all amplifiers
Removable screwless connectors accommodate up to 12-gauge wire
Rugged all metal chassis construction
Non skid feet won't scratch furniture and ensure unit stability during operation
72 adhesive-backed room identification labels
Niles Audio SSVC-6 | FG01044
Specifications
General

Dimensions

17" wide x 2" high x 9-1/8" deep
Shipping Info

Length

18.6 (Inches)

Width

10 (Inches)

Height

3.4 (Inches)

Weight

9.55 (Lbs)

Unit of Measure

Each

UPC

760514210448

Master Pack Qty

4
Niles Audio SSVC-6 | FG01044
Warranty
10 year limited warranty.